When it is necessary to don woolen socks and the garden harvest is dwindling, you know cold winter is approaching. To keep you warm and feeling comfortable under this cold and freezing atmosphere, the right winter apparel such as neck gaiter, glove, woolen sweaters, etc. is a necessity. For the tech-savvy, being confined to the house and being a couch (or computer chair) potato can be a freezing experience. A pair of warm winter shoes can work magic on numb feet and cold legs.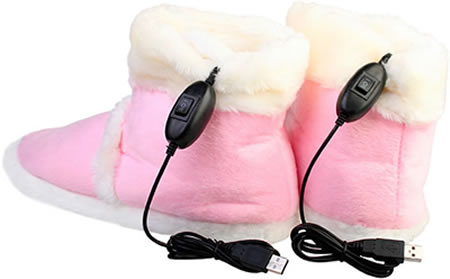 But what makes the sexy USB heated winter shoes different is that they can be connected to any electronics device that has a USB port, e.g. computer, Playstation 3, Xbox, etc. to keep your feet warm. No installation of any software is required. Just plug in the USB connector to the USB port and it will get the heating pads to work. Besides working with USB power, the USB heated shoes also work with external batteries. With the power supply from the batteries, users can walk to the street with these USB heated shoes.
These technologically developed shoes can make you feel sophisticated, warm and completely alive despite the frigid air and the bleak gray skies.
Summary of the features:
Cosy design with separate foot warmer
De-frosting your feet
Warming pad for generating heat via USB port or External Power Boxes (3 x AA Batteries for each box)
Plug and play
Power on/off switch
Temperature control switch
USB powered or Powered by External Power Boxes (3 x AA Batteries for each box)
2-level of heating: high and low
Support any devices with USB port, e.g. PC, Mac, PlayStation 3 or Xbox360
Cable length: 120cm
Dimension: 270 x 70 x 170mm (approx)
Shoe length: 280mm (internal)
Shoe Size(Men): Euro 42, UK 8, US 9
Shoe Size(Women): Euro 42, UK 8, US 10
Weight: 368g
AA Bateries is not included