Powermate has announced its new BlueFox BF-301v Bluetooth headset at CES2009, which the company claims as the world's first Bluetooth headset with voice control and Max 4x superior noise cancelling technology.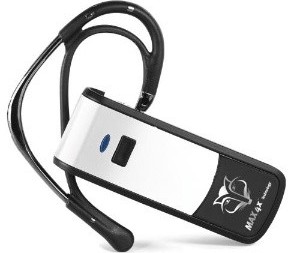 "After developing our proprietary and very successful Max 4x Technology products, we decided the next step should be to incorporate voice recognition technology into our new BlueFox line of Bluetooth products," said Powercam President, Sam Esses. "Using Sensory's voice control technology combined with the newest live searching technology available today, the BlueFox BF-301v is a full-featured, robust headset. Sensory's voice recognition technology not only enhances the BF-301v it also provides outstanding convenience and maximum versatility in a lightweight, easy-to-wear unit."
Features Of BlueFox BF-301v Voice Controlled 4x Noise Cancelling Bluetooth Headset:
Voice Controlled Bluetooth with Sensory's leading voice control technology
Voice prompts assist in easy pairing with phone
Voice commands for most tasks including Call Back, Call Voice Mail, Redial
Speaks incoming Caller ID – asks to Accept or Reject Call
Newest live searching technology available today
MAX 4x Technology blocks 4 times the external environment/ambient noise
Utilizes the CSR BC05 chip for faster pairing, improved sound quality and noise handling
Lightweight, fits comfortably on both ears
"In addition, we now use the CSR BC05 chip which dramatically decreases pairing time up to 50%, provides improved sound quality and handles noise levels much better than the CSR BC02 we used before," added by Esses. "And, with more states and localities legislating against handheld cell phone use while driving, the full-featured BlueFox BF-301v offers safety and value to consumers at an affordable price and very competitive margins for retailers."
The new BlueFox BF-301v Noise Cancelling Bluetooth headset that includes extra ear gels and hooks is available for $119.