You may have your printer or a few peripherals connected to PC but most of the time, it may only be used occasionally so it is ideal to either put them in standby mode, or turn off and on when necessarily. If you are looking for way to conserve energy with ability to control surrounding PC connected devices, here is a good option that you can adopt. Named as PowerUSB Bar, it enables a new way of power control via timed software applications as an initiative towards greener environment.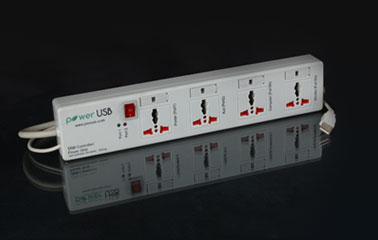 Basically the PowerUSB Bar comes with four power outlets with two of them always stayed ON while the other two can be controlled via USB interface plugging into PC. With each of them able to handle 6A or 15A in total, the intelligent powerUSB Bar can be used across different geographic area with voltage source covering from 100 up to 250VAC. The benefits are obvious and with them connected to desired peripherals such as printer, users will have additional way to control its states so that the printer can be turned on only when it is needed. Besides, it will have configurable global hot keys to switch on the power outlets depending on own preference. That is not all, there are also software API and DLL available especially for development or integration with other applications to make the whole usage more user and eco-friendly.
No pricing information yet, the new PowerUSB Bar is suitable for home use, commercial and even industrial automation with expected availability by August 2010.