Not long after the announcement of the next generation SDXC specification by SD Association, Pretec has completed the initial prototype and showcased it to public during the recent CeBIT event held in Germany. The new specification, with an ultra high storage of up to 2TB (TeraBytes) will feature a similar form factor as existing SD card standard and is expected to improve consumers' lifestyles in daily digital life.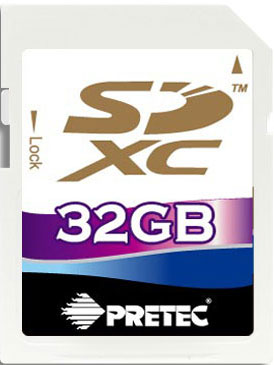 In order to support such a high capacity, its interface throughput has also been upgraded to support higher bandwidth, making the media files transferred between host and storage card more practical for daily use. Surprisingly, it is claimed to have a read/write speed of 104MBps by this year and eventually reaching 300MBps down the road. However, if you expect to observe such as high performance during the demonstration, you may be disappointed. Since it is still in very early prototype stage, Pretec's SDXC card stays merely at 32GB, which is similar to the maximum capacity limit of current SDHC standard. Nevertheless, the company manages to boost up its transfer speed to 50MBps, merely half of the targeted speed but still extremely higher than current SDHC Class 6 at 6.6MBps.
The company plans to double up its SDXC series capacity to 64GB by second half of this year. While it seems to be still far away from 2TB maximum capacity, but this is at least few steps ahead since there is still no actual SDXC compliance consumer device in the market.