The leading innovator in PC Gaming headphone technology, Psyko Audio Labs has introduced its new Psyko 5.1 Directional Audio Headphones, which recognized by the CES as the winner of the Innovations Design and Engineering Award for headphone category, aiming to offer gamers an experience that transcends normal surround sound.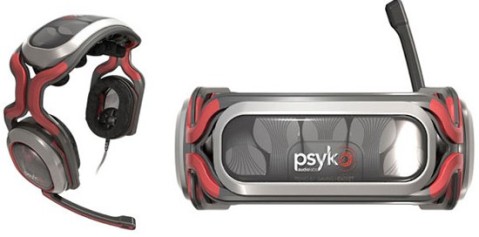 "It's been decades since there was any innovation to headphones' core technology of simply placing a speaker at each ear," said James Hildebrandt, CEO of Psyko Audio Labs. "Essentially, all other headphone designs deliver left sounds into your left ear and right sounds into your right ear. We offer a fundamental break from this limiting paradigm. We accurately position each speaker in the headphone bridge and then, using our patent pending Psyko Waveguide Technology, we deliver every sound to both ears, with the correct timing, volume variations, and front and back flow directions found in a natural 3D sound field."
Main Features & Benefits Of Psyko 5.1 Directional Audio Headphones:
Patent Pending Psyko Waveguide Technology for precision directional audio
You are always in the audio 'Sweet Spot' for enhanced realism
Hear directional sounds instantly and more accurately
Improves game performance through faster reaction times and higher kill ratios
Simple & accurate setup, just plug the included amp into your 5.1 surround card, turn on 5.1 and play
All speakers are automatically in the right place
Adjust volume and bass levels with the included amplifier
Patent Pending ear cup vents pivot open and closed, allowing for open air flow to keep your ears cool and comfortable for those marathon game sessions. Open them to talk to others in the room, close them to block outside sounds
Fabric cushioning for extended play comfort
According to the company, "Considered a revolution in headphone technology, Psyko 5.1 Surround Sound Headphones offer gamers an experience that transcends normal surround sound. They deliver the equivalent of "A Perfect Room", to give you the best audio experience. The perfect room is the highest goal for headphones or room systems."
The new Psyko 5.1 PC Gaming Headphones are expected to be available by early 2009 for about $300.