While portable speakers are a boon to users who are constantly on the move or who need to travel a lot, they can also be cumbersome and inconvenient due to the lack of stereo separation. When moving or storing one speaker, the other one would have to be pulled along at the same time as both are connected by cables. There is no way we can place the right speaker at one end of the room and the left one in another. Sony has come up with a solution to this dilemma.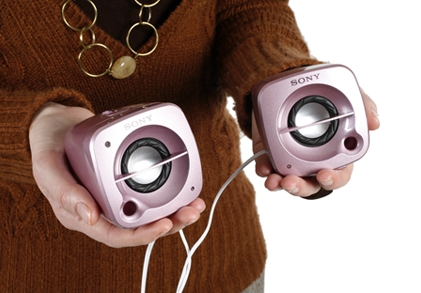 Featuring a separate unit for each speaker driver, the SRS-M50 Portable Speakers by Sony, offers stereo separation without compromising the sound quality or design. Even at high volumes, the audio is clear and there is minimum distortion. The compact design is not only practical but stylish and cute. Users can choose from a few colors to serve their penchant and purpose. In addition, the speakers work with any music source.
The portable speakers would fit easily into any luggage (thanks to their size) but the lack of a carrying bag is rather disappointing. This also causes the wires to tangle easily. In terms of performance, the speakers rather lack in bass. Retailing at a steep $49.99, the speakers, surprisingly, do not come with batteries.
In conclusion, despite some minor shortcomings, the unit offers better separation than most ultraportable speakers. The compact, travel-friendly design and trendy colors make Sony SRS-M50 Portable Speakers a great option for users on the move.