Internet Explorer 8 (IE8) users should be quite familiar with the improved "new tab" feature available in Microsoft's latest browser. When users hit "Ctrl + T" or click on the New Tab button, the new tab page revealed is not a blank page. Instead, the tab page offer users quick access to a list of sites that they have accessed the most and the sites they have opened and then closed in the current browser window. This quick access feature saves users a lot of time and effort in searching for the previous sites' url they have visited. This practical feature can't be found in the Mozilla Firefox browser. If this feature strikes your fancy, you can probably get this New Tab King, a Firefox add-on to assist.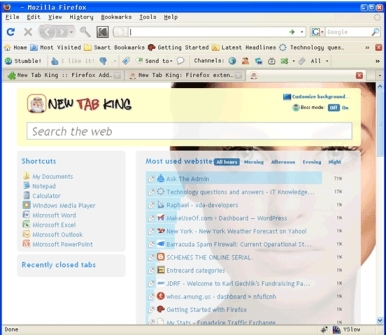 With New Tab King, users will get a quick review of the sites that they have accessed the most, by period of the day and do easy searches via Google search box. Users can delete any site listed in the list by clicking the "x" button located right next to the site name. Besides, the NewTabKing does more than IE8 does. It allows users to add shortcuts to popular Windows folders and applications. Users can quick access to folders such as My Document or start a program like Microsoft Word with a single click from the browser.
New Tab King is a free addon to Mozilla Firefox. Users can download this application via the link here.