The Internet audio search engine and leading manufacturer of digital audio products, Radiopaq has announced the availability of its new Sound Jacket pocket micro amplifier for forth generation iPod Nano, which acts like a Graphic Equalizer (EQ) but automatically adjusts itself every second to improve the sound performance, utilizing Radiopaq's Intelligent Audio technologies to dramatically enhance the audio quality of your favorite MP3 music tracks.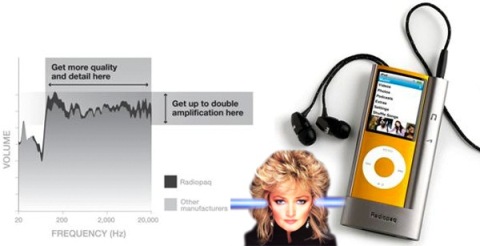 Impressive features of Radiopaq iPod Sound Jacket:
Improves sound quality up to 60% by dynamically enhancing the audible performance of any MP3 track
Automatically custom tunes for the best experience every time with your choice of music
Reveals hidden detail in the music which is reduced during MP3 compression
Adds extra warmth and bass to music when needed, not just rumble
Expanded sound stage to make the tracks come alive
Low distortion and wide volume range thanks to integrated micro amplifier
Works with your beloved iPod Nano for over 12 hours with continuous listening
"The Sound Jacket marks an evolution in personal audio technology. The iPod has become virtually ubiquitous with many people only ever listening to music that has been converted into the MP3 format," said Prash Vadgama, President of Radiopaq. "This has resulted in listeners becoming used to the inferior, compressed quality and not realising they're missing out on the full audio experience as intended by the musician. The Sound Jacket seeks to reverse this trend and allow people to enjoy music as it should be, rich and warm with an expanded sound stage. You won't believe what your ears have been missing."
The new ultra-slim and lightweight Radiopaq Sound Jacket that created to fit and protect your 4th genaration iPod Nano is available through Amazon and Radiopaq.com for £69.99 (about $115).