Radiospire Network has just unveiled a new chipset that offers HD (High Definition) media streaming capability for industrial market. Known as AirHook, it is believed to be the highest throughput chipset available in today wireless world. With the bandwidth of 1.6Gbps, it enables uncompressed media files to be transmitted in real time with good QOS (Quality of Service) in digital home.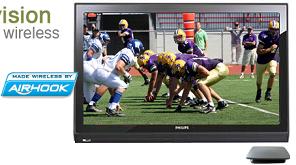 You may have heard of some new wireless technologies such as newly drafted 802.11n or WiMedia UWB (Ultra Wide Band) for LAN (Local Area Network). But none of them can offer such a huge bandwidth as being claimed by Radiospire chipset. This ultra high wireless bandwidth is needed for full HD applications such as 1080p transmission in which can only be achieved by using wired technologies. AirHook wireless technology utilizes 3.1-4.8 GHz unlicensed spectrum for media transmission so that it won't interfere with existing wireless signals like 802.11a/b/g.
Some of the target applications include the game console, HDTV, set top box and other consumer electronic products with wireless capability. We should expect the final products embedded with this chipset to be available in 2008.