If you always enjoy listening to music on your PC like me, you will be impressed with the way of how Radiotracker being designed. Being packaged in a simple dark blue and black graphics interface, Radiotracker combines all the great features as a very powerful tool that grab music from famous website and all these can be done legally and are completely hassle free.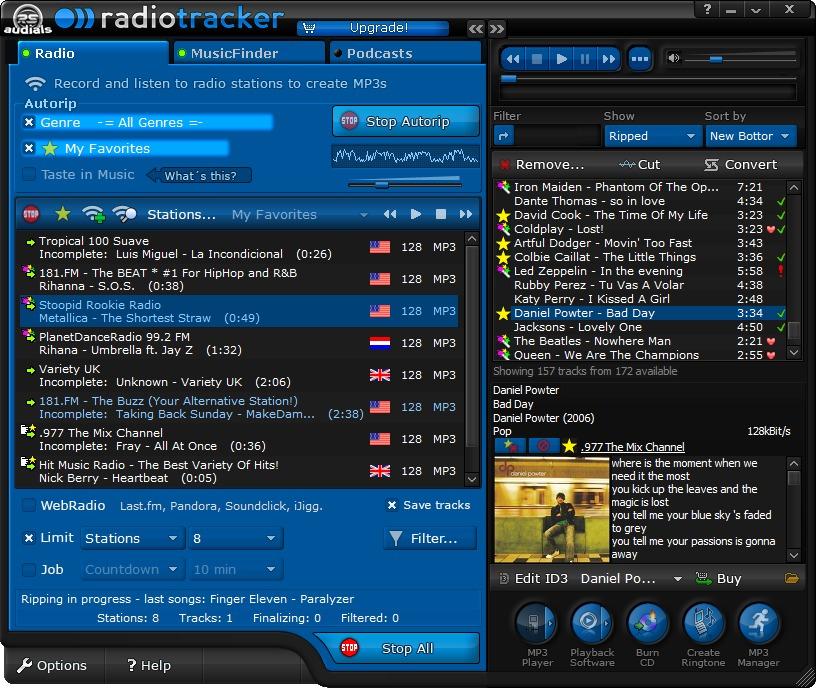 Basically there are three basic functions that users can select in order to enjoy the online music. First one is the Radio function that allows users to record and listen to radio stations. While users can manually add radio stations to rip off or play them directly, they can also click on "Start Autorip" with preferred Genre to narrow down the search results and the rest will be accomplished by the software with a commonly compatible MP3 audio tracks being stored in your local drives. Besides, MusicFinder is another useful feature that most of us will appreciate especially with the increase database of available downloads from the web. In Music Finder, you can create Wishlist and by adding artists and tracks to your MusicFinder, then follow by a click on "Activate" button will scan thousands of stations to find your favorite music automatically. Under this section, you will notice two panes arranged side by side with one on the left letting users to choose the main functions while the right one will display the artist album, rhythm with lyrics for greater visual experience besides enjoying the music. Last but not least, the Podcast function provides ability to download and record any podcasts streamed directly from online website, that makes it a complete one-stop solution suitable for all level of users. At the bottom left corner, there is an "Options" button that enables users to configure some basic settings such as the output folder location, Filter option, proxy settings and many more to make the piece of software more customizable for public.
To make it more powerful, the software has been enhanced with various tools such as MP3 Player, Playback Software, Burn CD, Create Ringtone as well as MP3 Manager so that the music can be converted or directly synchronized to your portable media player without much hassle. In summary, this is definitely a great tool to convert your traditional PC to a centralized multimedia system suitable for both office and home use.
Radiotracker is available from audials.com, and trial version of Radiotracker can be downloaded here. Free Radiotracker 4 is also available.