Downloading from files hosted on RapidShare servers become a little bit easier, as RapidShare has removed the requirement for free user (those without premium account) to pass through human verification by entering matching Captcha code. Previously, whenever a user without RapidShare premium account are required to identify the correct characters and numbers displayed in the Captcha and enter the code to proceed to download the shared file.

However, to protect RapidShare servers and network bandwidth from congestion caused by automated downloading, the maximum download speed for free‐users has been limited to 500 kilobit per second, or around just 62.6 KB/s, instead of full download speed previously. To compensate for download speed limitation, not only is Captcha dropped, but free users also do not have to wait anymore to start the downloading process. Furthermore, free-users can now upload and download bigger files (up to 200 megabyte).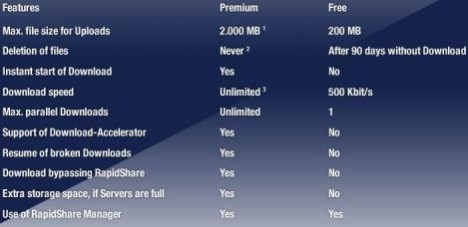 Not all goodies are for free users too. RapidShare news also announced that the download volume for premium users is limited to 10 GB (gigabytes) per day. The unused download volume credit can be "saved", transferred or rollover automatically to the next day up to the maximum of 50 gigabytes. Beside, Premium and Collector's Accounts can now receive RapidPoint credits when a file was downloaded by a free user, or up to 255 RapidPoints per day for Premium Downloads (downloads by premium users).
Overall, the changes on RapidShare is welcoming for most free users (premium users will has no qualms for sure, as can now earns more points), as download speed won't be much more problem than cracking the tiny download limit per hour imposed on free user, although more patient will be needed to complete the downloads from RapidShare servers.