Razer has launched its new pocket-sized, ultra-portable stereo gaming speakers, named as Razer Ferox, which the company promises to deliver superior audio clarity thanks to its 360° omni-directional acoustics, seems perfect for hardcore mobile gamers who looking for definitive audio reference.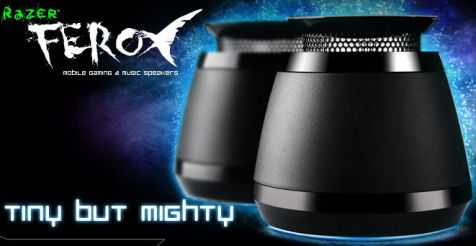 Main features of Razer Ferox speakers:
360° omni-directional sound to achieve all round clarity
Strong bass thanks to the expanded bass resonance chamber
Optimized digital amplification for superior sound and improved power efficiency
Long playback time of up to 12 hours
Dimensions: 70 (L) x 70 (W) x 53 – 64 mm (H)
"The Razer Ferox is our sophisticated, modern day boombox for gamers," commented Robert "RazerGuy" Krakoff, president for Razer USA. "Its sleek and compact structure takes up minimal space but delivers the crystal clear sound quality perfect for gaming on-the-go or for music playback wherever you're at."
The new tiny and sleek Razer Ferox mobile gaming speakers that bundled with a carrying pouch for added convenient is now available for an MSRP of USD $59.99 or Euro €59.99.