Razer has officially announced the launch of its new advanced Razer Nostromo gaming keypad (co-developed with Belkin), which combines industry-leading game controls, enhanced customizability and optimal comfort with cutting-edge ergonomic form factor, providing hardcore gamers the upper hand with improved features and technologies for intuitive game control.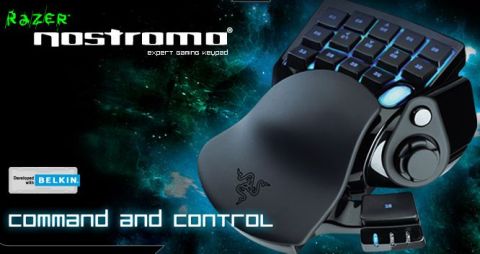 Key features of Razer Nostromo:
16 fully programmable Hyperesponse gaming keys
8-way programmable directional thumb pad and scroll wheel
Capable of storing up to 20 gaming profiles
On-the-fly switching between eight key maps
Soft-touch rubberized wrist pad for ultimate comfort
Unlimited macro lengths thanks to its new chipset and software driver
"A few years ago we had the privilege of working with Belkin to co-develop the highly successful Belkin n52te Speedpad," commented Robert "RazerGuy" Krakoff, President of Razer. "The Razer Nostromo is an update to this illustrious gaming keypad to meet today's competitive gaming demands. Building on the Speedpad's proven ergonomic design, the Razer Nostromo incorporates the latest gaming technologies that Razer has developed over the past few years, including a new chipset and software drivers that allow all levels of gamers to program sophisticated command strings to help decimate their opponents."
The new high-performance Razer Nostromo gaming keypad which measures 184(L) x 160(W) x 59(H) mm and weighs just 250 grams is now available for around $70.