Sony has announced that its new Reader Digital PRS-505 will be the first ebook reading device which able to support EPUB format. EPUB format is the International Digital Publishing Forum's XML based standard format for reflowable digital books and publications. The Reader Digital Book is a portable reading device for eBooks. It have high-resolution electronic paper display delivers a realistic print look that rivals traditional paper and uses minimal power. A single battery charge provides up to 7,500 pages of continuous reading.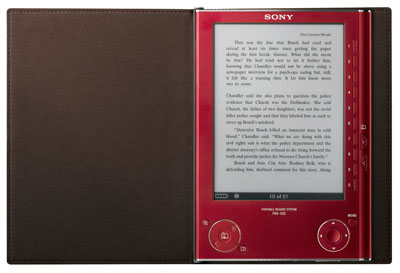 The New Reader Digital PRS-505 will be able to access and accept secure and non-secure ebooks in the EPUB format. Beside that the device also will support Adobe eBooks with digital rights management and have the capability to reflow standard text-based PDF eBooks for improved flexibility and readability. These enhancements are now made possible with the support of Adobe Digital Edition 1.5 version.  
The Reader users can transfer these documents to their devices using Adobe Digital Edition software or via the updated Sony Ebook Library software that comes with the new Readers. The PRS-505 model Readers will continue to support BBeB formatted eBooks offered at the Sony eBook Store and don't need to reformat or repurchase the new readers. If the user want to upgrade, they also can download from the Sony support site.
The Reader retails is cost for about $300 and comes complete with a USB cable, eBook Library software and a color-coordinated, protective soft cover.