Apple iPhone is so popular that has triggered many peripherals or accessories built surrounding it. In order to fill up the gap, a new infra red based device, named as RedEye mini has been released by ThinkFlood with intention to transform your iPhone, iPod and even iPad into a portable remote control that simplify your home appliances control without the need to search for multiple remote controls.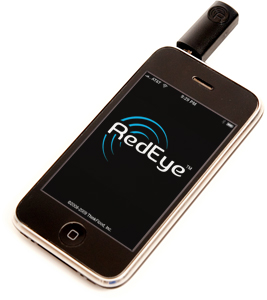 The usage is pretty simple and straight forward, what users need to do is just plug the tiny infra-red device into iPhone 3.5mm headphone jack and it is almost ready to use. With no extra battery required, the tiny device will get power supply directly from iPhone so there is no inconvenience of low battery or recharging issue. To enjoy such advantage, users will need to download a RedEye free apps that will instantly turn their iPhone interfaces into customizable button layouts with multi-touch and gesture control functions. Good thing is, the manufacturer does provide a comprehensive lists of Infra-red code database (at no charge) so that users can easily make the remote control works even on some outdated home appliances.
Priced at $49, the device is compatible with 2nd/3rd generation iPod touch, iPhone 3G/3GS, iPad, newly launched iPhone 4 and is already available for sale from its online store as well as some selected retailers.