Deleting file via SHIFT + DEL or empty recycle bin will not completely remove the data from your hard disk space. The deleted data will still remain on the hard disk until they are overwritten with some other new contents. As long as you have installed data recovery software such as NTFS Undelete, this deleted data can be recovered easily. Therefore, deleting your privacy data by using either SHIFT + DEL or empty recycle bin are totally not secure and your might have risk to expose your data to others especially when you plan to resell your PC or donate to others. To ensure a true data deletion, here is a tool named as Prevent Restore that is able to make deleted files unrecoverable.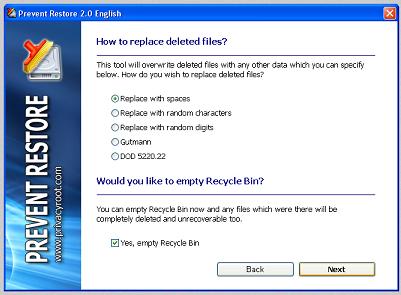 Prevent Restore is a freeware that is able to make deleted files become unrecoverable by overwriting all free space on your hard disk that contain fragments of deleted files with random data. It has a user friendly user interface and is very simple to use. You can choose to replace the free space by either with spaces, random characters, random digits, or even with security algorithms such as Peter Gutmann and DoDD 5220.22 (US military standard). Prevent Restore not only works well on hard disk, removable storage such as memory stick, USB thumb drive, SD card and etc are supported as well, except optical drive such as CD/DVD. Without our notice, some programs may store unencrypted sensitive information like password and bank account in computer's memory. With the structure of windows virtual memory, this information can be located in the paging file. In order to protect your privacy, the content of paging files will be removed as well. On top of this, cache or temporary files which are cleared or removed by you will also be taken care by Prevent Restore to ensure that they are not recoverable. Furthermore, it does provide you the option to empty Recycle Bin and avoid recovery of any data from it. If your hard disk is huge, the whole deleting process may take up to few hours to complete. Good thing is, you don't need to wait till the whole process to finish in order to shut down your computer as it has a great feature to turn off your computer automatically or alert you by playing sound once it is done.
Prevent Restore version 2.16 is definitely a great tool that will secure your privacy data from recovering by somebody else without your notice. It works well on Windows XP and Vista and only consume 1.93 MB of your hard disk space. All features are absolutely free to be used but some additional options requires you to register online prior to use it for maximum security purpose. Previously we have mentioned about Disk Scrubber that is also able to make the data unrecoverable, but it doesn't provide powerful features like Prevent Restore.