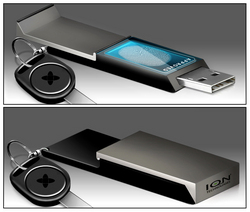 A USB flash drive that doubles as an MP3 player? This can even be worn as headset on a pair of sunglasses. This was the patent won by Ennova Direct Inc in 2006. The company has since continued to expand its range of USB Flash Drive and MP3 Player Patent Portfolio. Its latest addition is a biometric USB flash drive that slides open to reveal a built-in OLED screen. Ennova Direct expects to launch its new patented retractable biometric USB flash drive under their ION Technologies brand as early as 2010.

The new device dubbed the Flashlite has a protective cover, a first for retractable USB drives, which keeps the OLED screen safe. Once slid open, the interactive OLED screen enables users to browse files and carry out specific functions. The screen will also change colors when the biometric function is activated. The finger scanning feature is added in line with the concept that the USB drive should be a secure device to store personal information.
Arguably extraneous, the Flashlite will nevertheless impress users with its high-tech design and personalised features. The retractable cell phone has taken off, so why not a retractable USB drive with OLED screen that can detect fingerprints?