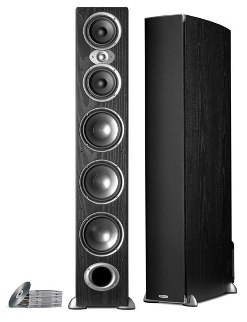 With an elegant aesthetical look, the new flagship model RTi-A9 by Polk Audio has finally emerged in the market. The high performance standing loudspeaker incorporates the latest acoustics technology offered by Polk Audio and features an innovative design that avid fans of the sound system could not resist.
The RTi-A9 is the successor of the popular RTi-12 and it features the latest generation of Dynamic Balance® polymer composite drivers for smooth wide-range response with low distortion. The RTi A9 uses multiple long-throw 7-inch woofers to combine the wide dynamic range benefits of a single larger woofer with the tight, punchy, accurate bass response of small woofers. By combining this latest feature and the PowerPort Plus feature that is retained from RTi-12, these multiple woofers are able to deliver deep, high-impact bass with speed and accuracy.

The high performance floorstanding loudspeaker features a curved cabinet and comes in real wood veneer cherry or black. It measures 124.5cm by 22.9cm by 55.9cm. There are three seven-inch woofers, two 5.25-inch mid/bass drivers and a one-inch tweeter mounted onto the curved cabinet. The loudspeaker manages to achieve high sensitivity up to 90 decibels for one watt of input and it is able to operate with amplifiers of up to 500w output.
RTi-A9 is magnetically shielded for use near video sources such as a television. Other notable features that might catch your eye include bi-ampable five-way binding posts and Mylar bypass capacitors in the crossover network system for improved high-frequency detail.
Read more from Polk Audio.