Safe Returner is an anti-malware tool which is similar to Malwarebytes Anti-Malware. Safe Returns helps to remove malware such as Trojan horses, worms, adware, spyware and rootkit which standard anti-virus software either fails to detect them or fails to effectively eliminate them.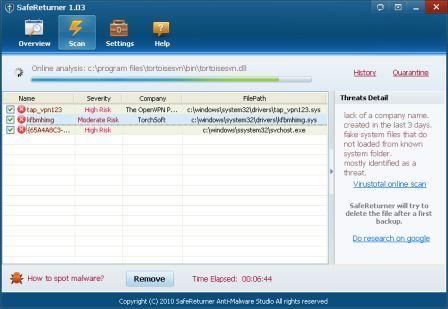 Features of Safe Returner:
It works at a high speed and it covers most types of spyware or adware components.
With built in malware detection heuristics Safe Returner detects new and unknown in the wild malware threats even before they are detected by other vendors virus scans and signatures updates.
For advanced computer users, it provides more freedom by allowing user to select items to remove by himself.
Safe Returner all the system files, the Windows Registry and the programs and files loaded at boot time for adware, spyware, remote access Trojans, Internet worms and other malware.
Heuristic malware detection engine.
Safe Returner is a smart version of Sysinternal's Autoruns which also shows you what programs are configured to run during system bootup.
Safe Returner resolves both known and unknown malware threats including color-coded Malware Severity Identification.
Very fast and light on system resources.
Able to remove autorun.inf to stop spreading of malware.
Regullar definition database updates.
Support ignore list.
Compatible and work in conjunction with all antivirus products.
However, do note that Safe Returner does not has real-time scanning capability, and thus cannot and should not be used to replace a full featured anti-virus software. Safe Returner is strictly a post-infection removal tool.
Each license of Safe Returner costs $29.95 which covers all database updates and future program updates for 1 year from the date of registration. Thanks to the sponsorship of the developer, My Digital Life has 10 (ten) free licenses of Safe Returner to giveaway.
To win one of 10 completely free Safe Returner licenses, just write and post a comment. All comments must be posted on or before 23:59 PM on March 7, 2011, according to comment posted time (UTC+8). You can post as many meaningful comments as you like to increase your chance of winning.
A valid email address must be entered on the "Mail" field. Do not post email address inside comments to avoid spam. Winners must allow his or her email address to be given to the sponsor for product delivery.
Ten (10) winners will be selected randomly, with each entitled to one license of Safe Returner which lasts for one year subscription. Each participant entitles to one license only.
Contest closed. Winners are matt, Timothy, Kalju, Joe, admin, Richard, hitanshu, Guy Smith, Johan Gustavsson, and Ashfaq A Hashmi.
My Digital Life's decision is final, and My Digital Life reserves all rights to change any terms and conditions without prior notice. Do check out more free giveaways available at My Digital Life.