The global leader in telecommunication network systems and mobile phones, Samsung has recently announced its new mobile WiMAX (WiBro technology) devices including SPH-M8200 touchscreen PDA, SPH-P9200 UMPC, SWT-H200K and SPH-H1300, offering the fastest data communication with full-mobility among existing telecommunication technologies.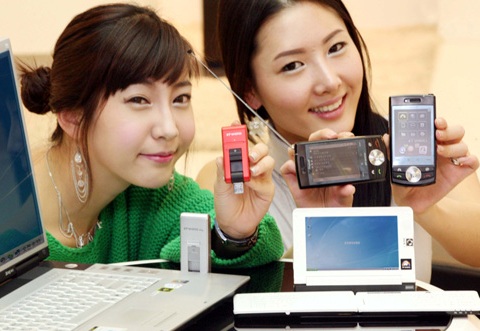 "We will continue to introduce Mobile WiMAX devices and expand our portfolio of mobile convergence devices," said Geesung Choi, President of Samsung's Telecom Network Business. "Samsung will continuously drive the market with pioneering telecommunication technology and services not only in Korea but also overseas. Samsung will meet the demands of Mobile WiMAX services and convergence devices by delivering the products that reflect consumers' demands."
All four Mobile WiMAX devices are go on sale through Korea Telecom(KT)'s Mobile WiMAX network.