Samsung has announced a collaboration with Thomas Kinkade Company to develop a prototype of the first TV that comes with a digital art display system, called as Digital Masterworks Art-TV. With this 46-inch diagonal Art TV, user will be able to shift between the digital artwork and TV programming at a moment's notice, aiming to integrate the refined subtlety of art with the vivid realism of HDTV.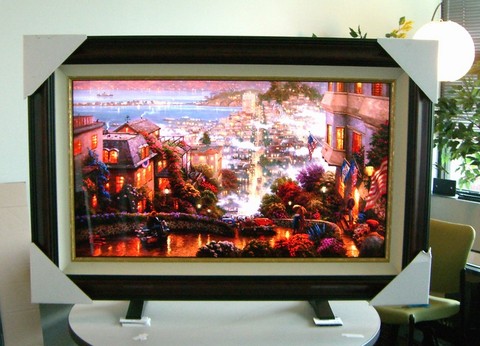 "Imagine having a piece of museum-quality fine art right above your mantle and then as you sink into the couch instantly switch to American Idol, the latest sports playoffs, or a Blu-ray action movie at the touch of a button," said Scott Birnbaum, Vice President, Samsung LCD Business. "The Thomas Kinkade Company is planning to produce a trend-setting combination of two of the most unlikely partners in visual entertainment – fine art and electronic programming."
According to the press release, "Samsung and the Thomas Kinkade Company indicated that by the time the Digital Masterworks Art-TV goes into mass production, the system, as conceived, would feature a customizable integrated touch screen to allow the purchaser to modify overall image lighting or subtly enhance specific colors within the Thomas Kinkade Company's guidelines to take maximum advantage of the lighting in the home or office where it has been installed. Hidden touch controls then also would permit viewers to electronically flip through their favorite Thomas Kinkade selections, showing one, two, four or all of the selected paintings at once. Users would also be able to zoom in and out of portions of any painting."
In addition, the Digital Masterworks Art-TV prototype will feature 1080p resolution, 3,000:1 contrast ratio, 500 nits of brightness and 8ms response time, along with 40GB hard drive to store other images.
"From the outset, we're going to deliver a truly superior digital viewing experience, that's a quantum leap beyond the staid world of screen savers, an easy-to-enhance electronic gallery befitting the tradition of artistic excellence that has been a hallmark of Thomas Kinkade art," said Todd Stewardson, Vice President of Thomas Kinkade Company. "We will later modify our planned system to permit consumers to be able to see the brush strokes, shading and texture of the canvas in a rendering comparable to the finest artistic reproductions."