Samsung has announced two new MP3 players which are YP-U4 Litmus and YP-Q1 Diamond.
The Litmus features with DNSe 2.0 sound technology that providing quality sound, 1" grey OLED display at 128 x 64 pixel, three LED lights and recordable hot keys. The Litmus has weight of 27.5g and with dimension of 27 x 83 x 13mm. It also able to boast a playtime for up to 16 hours, support multiple types of multimedia files format such as MP3, WMA, OGG and include FM Radio. It comes in 2GB and 4GB sizes and is available in rose, purple or blue.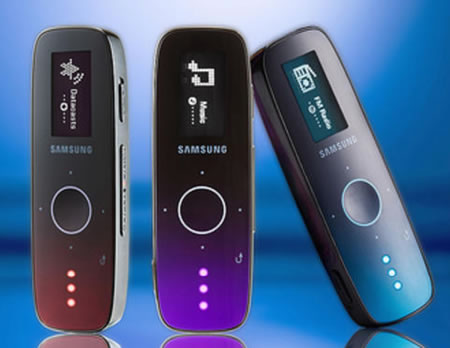 Same as Litmus, the diamond also features DNSe but it is with version 3.0. The diamond offers 2.4" TFT LCD with 320 x 240 QVGA screen and dimming lighting effect. It also able to last for 30 hours of player music in MP3, WMA, OGG and FLAC format while only last for 4 hours if playing movie in WMV, MPEG4 and View JPG images. It is 49.9 x 97.8 x 10.9 mm and available in varieties colors such as black, white or silver beauty. The users can option for 4GB, 8GB or 16GB.