The world's leading manufacturer of professional LCD and PDP display products, Samsung Electronics America, Inc., recently unveiled the launching of two LCD monitors, which it claims are the fastest widescreen LCD models in the world.
These two monitors feature lightning-fast 2ms (milliseconds) grey-to-grey (GTG) response time and provide very fast refresh time. These new 20in 206BW and 22in 226BW are definitely essential choices for gamers who seek true-to-life images and a vivid gaming experience.

The monitors have a native 1,680 x 1,050 pixel resolution and come with Samsung's proprietary Magic Technologies – MagicTune and MagicBright 3. MagicTune is a user friendly, on-screen interface that allows users to use their mouse to control all of the Magic Technology picture adjustments from one place. MagicBright will control and optimize the brightness, contrast and gamma correction automatically in accordance with the specific application. Both models also have dual inputs (DVI-D and analogue) and for added style, they come with high gloss piano-black finishes. Both 206BW and 226BW are also equipped with Windows Vista Premium Certification and are HDCP capable.
The 206BW is priced at $389.99 while the 226BW is priced at $449.99. As usual, a three-year limited warranty on labour and parts are given for these two models.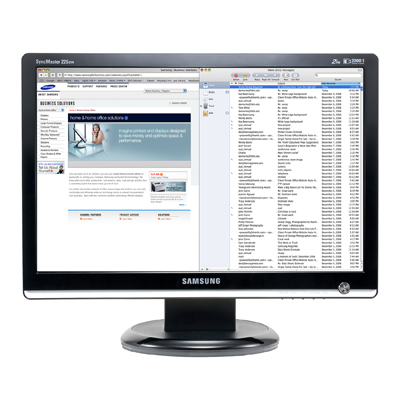 206BW
Specifications for Samsung 206BW:
Viewable Size: 20 inch
Response time: 2 ms (G to G)
Contrast: 3000:1
Brightness: 300 cd/m²
Maximum color: 16.7M
Viewing angle- vertical: 160°
Viewing angle- horizontal: 160°
Connectors: D-Sub 15 / DVI-D
Magic Technologies: MagicTune™ with asset management, MagicSpeed™, MagicBright 3™
Compatibility: Windows, Windows Vista, Mac, Sun
Dimensions (mm) 476.0*396.4*219.3 (without stand: 476.0*65.2*329)
Weight: 5.3kg
Warranty: 3/3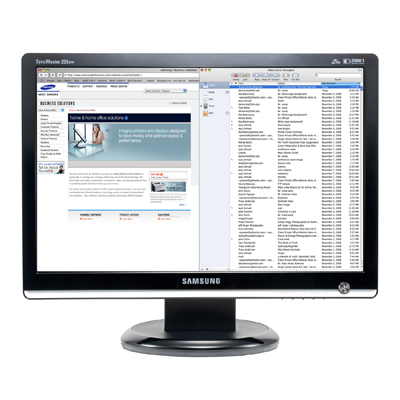 226BW
Specifications for Samsung 206BW:
Viewable Size: 22 inch
Response time: 2 ms (G to G)
Contrast: 3000:1
Brightness: 300 cd/m²
Maximum color: 16.7M
Viewing angle-vertical: 160°
Viewing angle-horizontal: 160°
Connectors: D-Sub 15 / DVI-D
Magic Technologies: MagicTune™ with asset management, MagicSpeed™, MagicBright 3™
Compatibility: Windows, Windows Vista, Mac, Sun
Dimensions (mm): 514.6*422.0*219.3 (without stand: 514.6*63.0*353.3)
Weight: 4.9kg
Warranty: 3/3