Nowadays we have been talking about technology convergence so that a digital device can be integrated with various new features to stand out from the crowd in competitive market. Samsung Electronics, a global leader in consumer electronics recently unveiled two new models of 22" LCD monitors under SyncMaster series, offering extra multimedia features such as VOIP (Voice Over Internet Protocol) and webcam functionalities.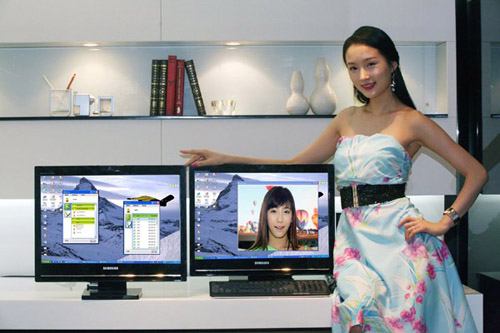 Running on Windows XPe (XP embedded) operating system, they are supported by simple networking module as a heart to perform network processing while setting up the voice and video call through built-in multimedia devices. Some multimedia devices such as 2.0 Mega pixies web camera, microphone, speaker and preinstalled softwares have enabled them as a standalone communicator gadget ideal for digital home. The user only needs the internet connection to utilize all these full features with famous chatting applications  such as Skype or Microsoft Live Messenger for long distance voice and video conferencing. That is not all, four USB ports have made it more than sufficient for external peripherals devices such as keyboard or mouse browsing support.
A high 1680 X 1050 resolution on these series made it best fit for most of the current graphics and video requirements. However, no pricing and firm availability date being announced yet but I believe it should be able to penetrate into AV (Audio Video) and telecommunication segment soonest possible.