The portable gadget which was introduced at CES 2009 is now available to purchase in Korea. This gadget may useful for those who need to travel and perform presentation or demo for their client. The Samsung MP200 is an ultra portable pocket projector.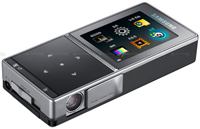 Featuring with a 2.2-inch color LCD, Samsung MP200 is also equipped with picture viewer that supports JPEG, GIF, animated GIF and BMP files format. Other notable features include 190MB of internal memory, a DMB TV Tuner, MP3 player, photo player, a microSD slot that supports up to 16GB and able to read and display presentation media like Microsoft Excel, PowerPoint, Microsoft word and PDF files.
The Samsung MP200 with measurement of 109.7 x 48.8 x 19mm and weighs 140g is priced at €225.