Samsung has officially announced the launch of its new 27-inch SyncMaster P2770FH full HD (1920 x 1080) LCD monitor, which is equipped with a stunning 1ms response time to virtually eliminate motion blur and ghosting effects for an optimal image quality that's ideal for PC gamers and video enthusiasts. In addition to 1 millisecond response time, Samsung SyncMaster P2770FH also features 70,000:1 dynamic contrast ratio complemented with an enriched color gamut, aiming to enhance your viewing experience.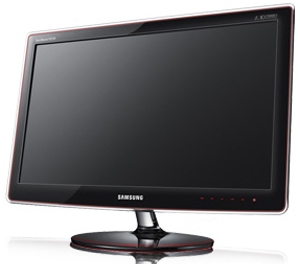 "The new P2770FH is a prime example of Samsung's leadership in display engineering, and creative professionals and computer gamers seeking the best possible viewing experience will immediately appreciate its benefits," commented Young Bae, director for display marketing at Samsung Enterprise Business Division. "With the fastest response time among the product line, the P2770FH offers industry-leading quality for premium visual performance in everyday personal and professional use."
The new elegant Samsung P2770FH full HD 27-inch monitor which measures 26 x 19 x 9.6 inches and weighs in at 6.7 pounds will incorporate a HDMI input for added convenient, expected to be available this month for around $400.