Samsung has just unveiled a new series of 64GB SSD (Solid State Drive) to fit high end memory requirement in PC market. Unlike other SSD product in the market, this newly released SSD is compliance with SATA (Serial ATA) II specification in which an ultra high memory data transfer could be achieved.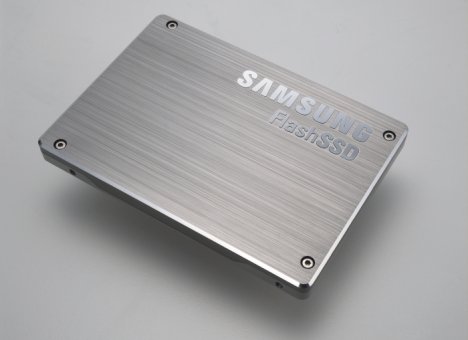 The new SATA II performance is almost twice higher as compared to conventional SATA interface. Typically, SATA II can reach maximum speed of 4Gbps while this particular product can support a high sequential write and read speed of 100MBps and 120MBps respectively. Typical SSD write/read specifications fall around 45MBps and 65MBps. When integrated with SSD memory, it makes the memory module fit well for mobile or portable devices since SSD is highly power efficient as compared to traditional hard disk. Furthermore, SSD is small in form factor and more reliable for longer life support.
The SSD memory will be available in both 1.8-inch and 2.5-inch by early of 2008. No pricing has been announced yet but when more SATA II SSD being made available by other memory makers, we should expect the pricing to be dropped and affordable to public.