Samsung is famous for its LCD Panel, smartphones, processors and varieties of Consumer Electronics device and now seems that the giant Korean company is planning to put its own name on the memory cards that are commonly used in electronics devices as memory expansion.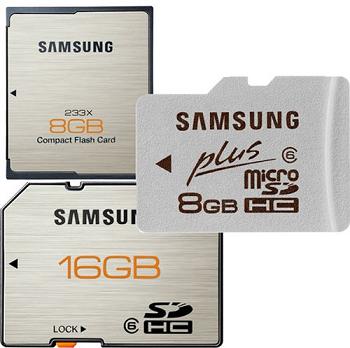 As some of you may aware, Samsung has been manufacturing flash drives and sold them to third parties with rebranded name before reaching end users' hands. And now it sees the market growth especially the memory card usages in mobile computing that triggers the change in its Go-to-Market strategy. Named as Premium 'Plus' Memory cards, they will be available in various formats such as microSD (Secure Digital), SD (Secure Digital) as well as CF (Compact Flash) with memory capacities ranging from 4GB, 8GB and up to 16GB suitable to be used in smartphone, digital camera, netbook as well as embedded applications. Although it is not leading the market in terms of the memory capacity, but the new memory cards are compliant with Secure Digital Class 6 standard for easy compatibility with any SDIO controller standards with maximum read speed of 17MBps (SD/Micro SD cards) while the CF card can achieve up to 45MBps. Furthermore, all these are well packaged in durable silver metallic casing that can sustain good level of anti-shock and water proof for extreme environments.
No pricing information yet, the new memory cards will be commercialized by end of October in Taiwan market first, followed by other regions in short future.