RADVISION and Samsung Electronics America have announced the launch of the new Samsung VC240, which the companies claim as their first product on the market to integrate all the components required for high definition desktop video conferencing into a single device. Besides 24 inch high resolution monitor, the Samsung VC240 can also operate as a standalone desktop HD video conferencing device, offering RADVISION's newest advanced video features including SVC (Scalable Video Coding) and Forward Error Correction.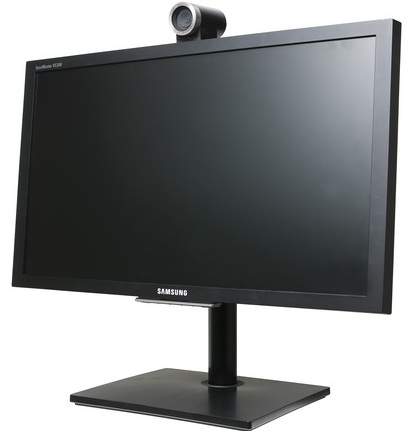 "Samsung is well-positioned in the future of telepresence and digital convergence, and this partnership with RADVISION brings to market a unique solution with the ability to scale," said J.H. Kim, President of Samsung Electronics America, Information Technology Division. "The VC240 highlights our ability to provide superior display technology for any current or future display application."
According to Samsung, the VC240 features H.264 codec, 5 megapixel camera and noise-cancelling microphones, providing excellent video compression and high resolution images. Special video and voice functions enrich the user experience in a video conference environment, including adaptive jitter buffer, lip synchronization, acoustic echo cancellation and voice activation detection. A 5 ms response rate assures users of motion clarity with reduced blurring, while a 1000:1 contrast ratio reduces eye fatigue and provides sharper text, deeper shadows and brighter colors.
"The VC240 breaks down barriers in the desktop market by allowing users to enjoy all the benefits of the high definition video communications experience at a fraction of the cost of existing hardware desktop solutions," said Boaz Raviv, CEO of RADVISION. "With the introduction of this product Samsung and RADVISION are literally changing the playing field by enabling wide scale deployment of HD video on the desktop. We are honored to partner with the world's leading expert in LCD technology and together we will bring the market a new level of desktop video communications."
The new Samsung VC240 that fully compatible with other VoIP systems including Session Initiation Protocol (SIP) based Multipoint Control Units (MCUs) and Unified Communications (MS) is expected to be available later this fall for about $2,000.