The Korea-based consumer electronics giant, Samsung is preparing to launch its new portable media player which known as YP-R0. The portable media player has been integrated with basic features for storing and playing digital media. Instead of using colour LCD or OLED screen display, the display of Samsung YP-R0 has been enhanced with a 2.6-inch touch screen.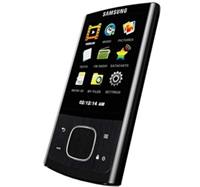 Comes with 8GB of storage space, Samsung YP-R0 is also equipped with an RDS FM tuner. It also has built-in media player that supports MP3, OGG, WMA, ASF, FLAC, WAV, AAC audio, MPEG4, WMV video, JPEG, PNG, BMP, GIF image files and supports MicroSD card.
The Samsung YR-R0 with weighs 60g is expected to be available in consumer market soon and is priced at about $185.