The American multinational corporation which designs and markets flash memory card products, SanDisk Corporation has announced the launch of its new Extreme III 30MB/s Edition line of SDHC cards. As its name implied, the Sandisk Extreme III SDHC 30MB/s Edition Cards can support a new faster speed of 30MB per second, aiming to deliver high performance when used with the newest D-SLR camera – Nikon D90, the first Digital SLR on the market to support the new SDHC cards at increased performance.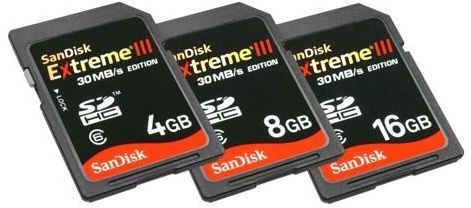 "The high capacities and performance of the SanDisk Extreme III 30MB/s Edition SDHC cards give users the freedom to shoot lots of high-resolution photos and video clips," said Susan Park, director of consumer product marketing for SanDisk's performance cards. "The combination of our new SanDisk Extreme III 30 MB/s Edition SDHC card technology and the Nikon D90 camera maximizes performance."
According to the company, "Featuring a 50-percent speed boost from previous 20MB/s cards, the new SanDisk Extreme III 30MB/s Edition SDHC card makes it possible to record 39 images in continuous shooting mode at 4.5 frames per second with a file size of 6.0 MB JPEG L Fine per image.3 The Nikon D90 camera captures high-resolution, 12.3 megapixel still images, and it is Nikon's first DSLR to offer movie recording capability."
"Increasingly we're seeing more second- or third-time digital camera buyers upgrading to more technologically-advanced prosumer DSLRs because they offer richer feature sets at more affordable prices than ever before," said Chris Chute, research manager of IDC's Worldwide Digital Imaging Solutions Group. "The new SanDisk Extreme III cards provide optimal performance levels and high-capacity points to match that latest technology innovation."
"Whether capturing a special moment in sports, a wilderness hike, or just your toddler running across the room, life doesn't always stop when you want to take a picture," said Mr. Koichiro Kawamura, General Manager, 1st Designing Department, Imaging Company Nikon Corporation. "The combination of the new Nikon D90 camera and SanDisk Extreme III 30MB/s Edition SDHC cards helps ensure that photographers capture winning action shots and experience quicker transfer of files from the camera's memory card to a computer."
The new SanDisk Extreme III SDHC 30MB/s Edition cards that have a Class 6 performance rating are expected to be available worldwide in coming September in 4GB, 8GB and 16GB memory capacities, selling for $64.99, $109.99 and $179.99, respectively.