The well-known worldwide leader in flash memory cards, SanDisk Corporation has announced its new SanDisk Extreme Pro CompactFlash memory cards, which feature an advanced memory controller – SanDisk Power Core Controller, to enable lightning-fast read and write speeds of up to 90MB/s (600x), allowing for more continuous burst shooting and get the most out of your professional D-SLR camera.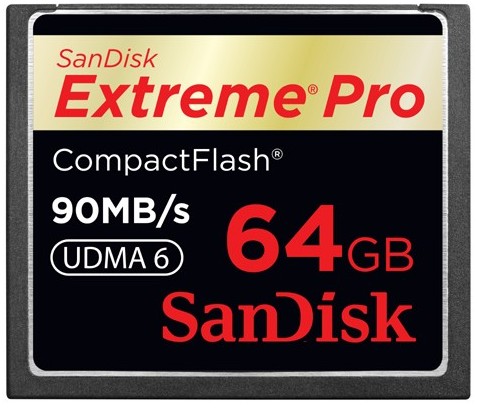 "The new SanDisk Extreme Pro CompactFlash line is the direct result of SanDisk's passion, commitment, and break-through engineering innovation to provide best-in-class flash memory cards for professional photography," said Eric Bone, vice president, retail product marketing, SanDisk. "The SanDisk Power Core Controller delivers unmatched write speed and reliability, providing photographers with a spectacular combination of performance, capacity and peace of mind that images are safely stored."
Highlights Of SanDisk Extreme Pro CompactFlash Memory Card:
SanDisk Power Core Controller's dual-lane architecture and software algorithms double card performance, enabling read/write speeds of up to 90MB/s over a UDMA-6 bus
SanDisk Power Core Controller's firmware algorithms and 42-bit ECC engine maintain data integrity as well as extended card endurance through optimized wear leveling
SanDisk Power Core Controller features an integrated simplified design to further increase overall card durability
Faster read and write speeds give more opportunities to capture the winning shot and less time spent offloading gigabytes of photos afterwards
RTV Silicone coating for added protection against moisture and humidity
Withstands accidental drops of up to 9 feet
Guarantee operation at extended temperatures ranging from -25°C to 85°C (-13°F to 185°F)
SanDisk Extreme Pro CompactFlash memory cards that offered in 16GB, 32GB, 64GB models are now available with MSRP ranging from around $300 to $800. In addition, SanDisk also announced new SanDisk Extreme CompactFlash cards at enhanced performance of previous SanDisk Extreme III CompactFlash cards – 60MB/s of read/write speed (400x), available in memory capacities of 8GB to 32GB with prices ranging from approximately $130 to $375.