The market leader in flash memory, SanDisk has launched its newest ImageMate All-In-One and Multi-Card memory card readers, which feature stylish glossy black, metallic silver design and updated software applications, aiming to provide users an enhanced experience through increased efficiency and faster data transfer rates.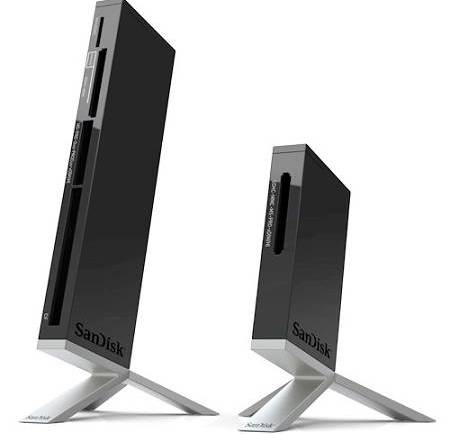 According to SanDisk, "The new ImageMate All-In-One and Multi-Card readers quickly and conveniently transfer data between a wide range of memory card formats and a host computer. The All-In-One memory card reader can reach speeds of up to 34 megabytes per second (MB/s) when using a SanDisk Extreme IV 45MB/s CompactFlash card, and the Multi-Card reader is capable of up to 30MB/s read and 27 MB/s write data transfer rates when using a SanDisk Extreme III 30MB/s Edition SDHC card."
These new SanDisk ImageMate readers incorporate a transfer button that automatically launches a user-defined application or web site, such as Adobe Photoshop or flickr.com.
"The new SanDisk ImageMate readers are two of the fastest and most reliable USB readers, capable of transferring 1-gigabyte of data in less than 35 seconds," said Jennifer Lee, senior product marketing manager, SanDisk. "The ImageMate readers' space-saving vertical design makes them unobtrusive on your desk, but with such stylish looks they can't help but stand out."
The latest SanDisk ImageMate All-In-One memory card reader that supports SD, SDHC, miniSDHC, microSDHC, MMC, Memory Stick, Memory Stick Pro Duo, xD, CompactFlash and many more file formats is now available for $29.99, while the SanDisk ImageMate Multi-Card reader that supports wide variety of file formats including xD, Memory Stick, SD, SDHC and MMC is retailed for $19.99.