SSD (Solid States device) is a new trend on the way replacing conventional HDD (Hard disk drive). In an attempt to fulfill higher performance and smaller foot print HDD requirements needed for mobile computing, Sandisk has just unveiled a next generation pSSD targeted for netbook market. Named as P2 and S2 pSSD, it is enhanced with new non-volatile nCache technology that can achieve a five times boost in random write memory performance as compared to conventional hard disk drives.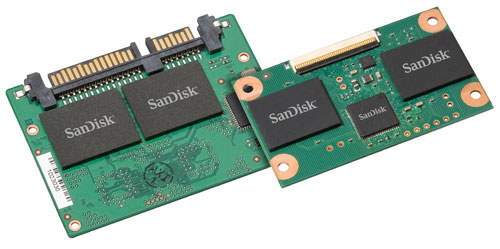 Besides its stable performance read and write performance, the smaller form factor pSSD can be fitted in space constraint design like netbook or nettop. Furthermore, it is claimed to be more energy efficient and consumes less power that able to prolong the battery life while on the move.
With its durability and higher performance, the new pSSD is suitable to be used as a storage device with less susceptible to mechanical shock and extreme environment. No pricing is available yet, the pSSD will be available in different capacities such as 8GB, 16GB, 32GB and up to 64GB and all these will be released to commercial market by end of this year.