SSD (Solid State Drive) is a new memory technology trend that is going to be adopted in future portable PC market. It has various great advantages over conventional hard disk drive. Some of the examples are it is more reliable with less moving mechanical parts and consumes less power and more importantly, its mini form factor has made it a better choice especially in embedded and mobile PC world. However, the price and its current memory capacity technology could be a trade off for existing manufacturers to transition to this new technology. In view of its popular demand, SanDisk is finding a way to introduce a cheaper version of uSSD 5000 for the entry level PC market.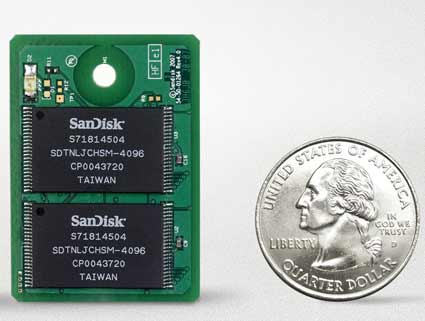 The uSSD, measured around 27mm X 38mm with integrated USB controller interface is targeted for mobile and low cost PC market. Unlike SSD, uSSD is said to be cheaper in solution and there is a plan to build the uSSD on-board to replace conventional hard disk drive for the low cost Intel's classmate PC in emerging countries.
Sandisk's uSSD 5000 series will be available in memory capacities ranging from 2GB to 8GB. No pricing information has been disclosed yet but it should be cheap enough since the end product with the 2GB version embedded in is going to be sold in sub $250 only.