The world leader in rechargeable batteries, Sanyo has announced a new "eneloop" series product, the USB charger set made especially for Eneloop batteries. In addition, this product is bundled with a couple of AA Eneloop batteries for users to get start. With Sanyo Eneloop USB charger, you can just plug in this USB charger into any available USB port, and it'll take around 280 minutes to juice up a couple of AA batteries and 2 hours for AAA batteries. Besides, charging speed is doubled when users charge a single battery at a time. The cable of the USB charger can be rolled up and stored within after use, making it a truly portable solution that compact and easy to carry.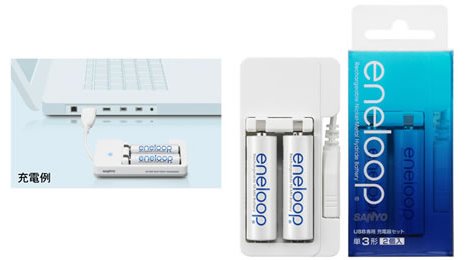 The Sanyo eneloop system appears to be proprietary and uses its own eneloop batteries. "Eneloop" is a concept based on recycling, or looping energy. Sanyo's "Eneloop" battery is the first product in a series that embodies this concept. In addition, these batteries can be immediately used out-of-the-package following purchase, be recharged and used for approximately 1,000 times, and be recycled after being completely used.
Sanyo will continue to promote the concept of "single use to rechargeable" by offering a variety of battery-related products for many more users through Sanyo's accumulated battery and charging technologies. Lastly, the Sanyo Eneloop USB charger will hit the Sanyo dealer stores on coming May 21.