Good news for folks who looking for solution to easily charge their USB devices while on-the-go! SANYO North America Corporation has debuted its Sanyo KBC-L2 eneloop mobile booster, the powerful 5000 mAh rechargeable Lithium-ion battery pack which is designed to offer instant backup power for smartphone, PMP and other USB-powered devices while on the move. The eneloop mobile booster that able to be fully charged in 14 hours via USB power or 7 hours through AC power adopts dual USB outputs for charging/powering two USB devices simultaneously.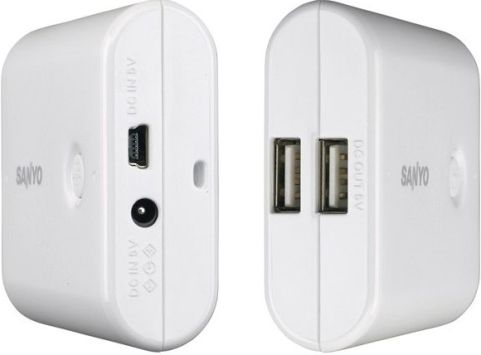 According to the company, the Sanyo L2 eneloop mobile booster delivers 5V 500mA output power for charging two devices at the same time or 1000mA power while charging a single device.
"We've all become accustomed to carrying some sort of mobile device with us whether it's a tablet, smart phone, or a music device. Now we can use them more confidently knowing we have portable, convenient power for those devices," commented Tom Van Voy, General Manager for the Digital Solutions Division at SANYO North America. "The SANYO mobile booster is easy to use and it's portable enough to take with you anywhere."
The portable and compact Sanyo KBC-L2 eneloop mobile booster that compatible with wide range of mobile devices including iPhone, iPod, Blackberry Bold and Blackberry Curve is now available for around $80.