Here is another innovative idea of getting SATA (Serial ATA) interface integrated into similar kind of docking station for immediate folder access. It doesn't seems to involve high end technology as the SATA, USB or IDE interfaces can be easily configured to be connected to external HDD (Hard Disk Drive) or CDRW/DVDRW ROM through a traditional hard casing for daily use. By only minimum design tweaking, the usage model can be extended to more convenience way of plugging a normal 2.5-inch or 3.5-inch HDD into this special design USB docking station.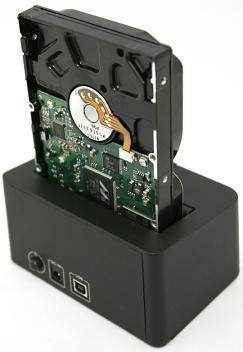 The design is quite straight forward with only a two ports – one DC-IN for power supply and another one USB type-A for connectivity to PC. Like traditional external hard casing, there is a special controller that helps to convert SATA (Serial ATA) interface to USB device port embedded inside the docking station. The USB port is famous for its easy plug and play as well as high bandwidth transfer (maximum of 480 Mbps). And by looking at most of the market available HDD are common with SATA interface as well as easily available USB2.0 compliance host interface in PC/laptop, this could a good product that fits into current market demand. That is not all, the docking station can be shared across either 2.5-inch or 3.5-inch standard HDD. The concept is pretty simple with just slot size reduction by inserting a small plastic piece into the holder.
The product is currently available in commercial market at around $47. It could be a better deal if there are additional slots for CF (Compact Flash) and SD (Secure Digital)/MMC (MultiMediaCard) for fast multimedia files access.