The world's leading provider of hard disk drives and storage solutions, Seagate has launched its new BlackArmor PS110 USB 3.0 external hard drive performance kit for notebook computers, which includes a 500GB 7200RPM 2.5″ portable HDD, power cable and PC express card, delivering speeds up to 3 times faster (transfer rates of 100MB/s) than previous generation USB 2.0 drives.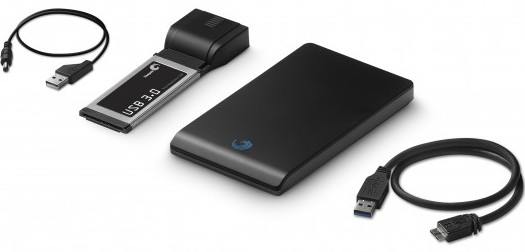 "The growing presence of large multimedia files in the home means that connectivity and speed is a top concern for a satisfactory experience," said Dave Mosley, executive vice president for Sales, Marketing and Product Line Management at Seagate. "The delivery of USB 3.0 further underscores our commitment to giving people an efficient way to store, access and share their digital creations."
Key Features Of Seagate BlackArmor PS110 USB 3.0:
3x faster transfer speeds (compared to USB 2.0 drives), thanks to USB 3.0 interface
Easy, fast transfer of large files – 25GB HD movie can be transferred in only 4 minutes
Carry and back up your files on the go thanks to exceptionally slim, 12.5mm form factor
Protects backed up files with AES 256-bit encryption
Backward compatible with USB 2.0
"To date, the USB interface is the most prevalent interface and will continue to dominate as the interface of choice through 2011," said Liz Conner, lead research analyst of IDC's Personal Storage Research. "This
will be re-enforced with the introduction of USB 3.0, which provides significantly increased bandwidth to better handle the growing number of large multimedia files being stored to external hard drives."
Seagate BlackArmor PS 110 USB 3.0 portable hard drive performance kit that comes with Acronis business-grade backup suite, automated full-system backup and SafetyDrill+ software is now available through Seagate's official site for MSRP of $179.99.