Seagate has just unveiled a new PSD (Power Savings Drive) or better known as HHD (Hybrid Hard Drive) ready for consumer market. HHD is a new hard disk technology that integrates a non-volatile flash memory into conventional hard disk drive for better performance. The newly released HHD, Momentus 5400 PSD is able to boost up system performance by bringing down boot up time, with better power saving while still maintaining the hard disk reliability due to less mechanical moving parts.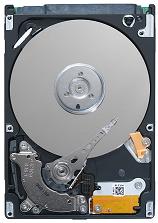 The HHD can fit into variety of market segments especially high end laptop market when the short battery life and hard disk vulnerability are great concern. By adding a 256MB flash memory into traditional hard disk drive, the boot up time is said to be shorter due to the direct boot up from flash memory without the need to fetch boot code from hard disk. In terms of power consumption, it has enabled a huge power savings of about 50 percent due to less platter spin time. Furthermore, when the platter spin time is lesser, the chance of hard disk failure due to mechanical shock is also significantly reduced.
There are few models with different hard disk capacities, ranging from 80GB, 120GB or 160GB to be chosen from. However, no pricing info has been released at this moment.