Nowadays HD (High Definition) resolution display is a trend and some LCD and TV manufacturers have already started to look into designing next generation display panel with 3D technology. Although 3D display on portable devices may not be needed, but Seiko Epson, a famous Japanese company has taken initiative to come out with a small 2.57-inch 3D LCD display prototype targeted for mobile market. Not only that, the company also showcases an actual working prototype at FPD International 2008 held in Japan recently.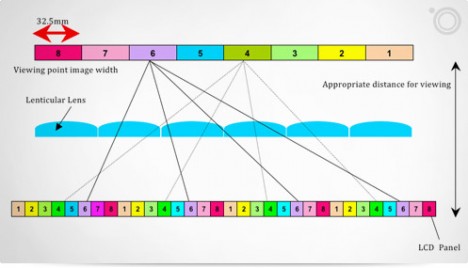 It is always a challenge especially when trying to view a 3D image without the need to wear 'lenticual lenses' (special lenses dedicated for 3D image viewing). Seiko Epson has able to break the technology barrier by capturing the image from different angles, splitting them and then display all of them on the LCD display which eventually create more depth to form a perfect 3D display. It may sound simple but yet it involves very sophisticated image processing mechanism before the development effort can be realized and implemented in actual products.
Seiko Epson plans to convert this newly developed 3D display prototype into commercial products in two years time. The major obstacles that the Japanese company needs to tackle include how to smoothen the 3D display while combining 'split' images and how to further maintain similar pixels for high resolution display after the images are split without affecting the final quality. Even though this feature is not market driven right now, but it could become one of the major selling points in future mobile devices.