SentrySafe has announced a 250GB version of its Fire-Safe waterproof hard drive which designed to enable backup of critical data in the event of crash, computer failure and fire or water-related disasters. The device has been third-party ETL- verified for fire protection for up to 30 minutes at a whopping 1,550°F and fully submersible in water for up to 24 hours.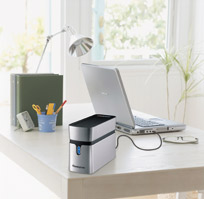 The drive is feature with Maxtor's OneTouch 4 Mini hard drive and includes a collection of software protection utilities like Maxtor's SafetyDrill, a "bare metal" system restore. The drive is enclosed in SentrySafe's heavy duty enclosure, which offers the heat and water protection. The connectivity of SentrySafe hard drive is simple by direct USB to computer or laptop.
SentrySafe also provide the recovery support program if the hard drive experiences fire or water damage whereby attempt to recover the user data for free of charge and replace the new unit. The others features include password protection and data encryption. The 250 GB version of the drive is available now for price of $399.99, 80GB and 160GB version also available.