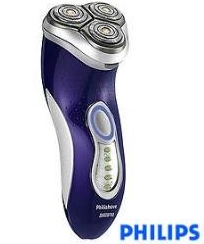 The bald head is sexy. But maintaining it is not as easy as it seems. An excellent shaver is necessary to prevent going out of the house with a head full of nicks and cuts. The Phillips Speed XI shaver is a top-performing first-class gadget for this purpose. It is vouched by bald men who have had to spend hours shaving with conventional razors or inflexible electric razors for that smooth and suave look.
The Phillips Speed XI shaver is gentle and easy to use. It moves smoothly over the cheeks, chin, and the roundness of one's head. It comes with a contour following system, unique reflex action system, individuals floating heads, and precise cutting system to reach problem areas like behind the ears with ease. It also comes with rechargeable batteries which last up to an hour and is easy to clean. The unique feature of the Phillips Speed XI shaver is its triple track heads. It also comes with a pop-up trimmer for those who wield a moustache.
If you're bald and desperate for a shaver that works, try this gadget. The price may set you back initially but it definitely pays in the long term.