Silicon-Power, the leading brand in Flash Memory Manufacturer has announced the releases of its 8GB LuxMini 710 USB flash drive. LuxMini 710 is a satiny, high-capacity USB flash drive designed for transferring, safe storing, sharing multimedia, plug and play and compact size.
LuxMini 710 series bundles with the advanced security software 'the SmartKit' which help users to compress data effectively in order to save more storage space.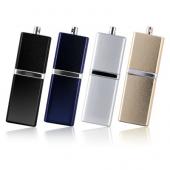 All series of Silicon-Power USB flash drive including LuxMini 710 as well, is compatible with Microsoft Windows Vista. It also designed with sophistication and easy plug-and-play which offers premium features. To make the pure and environmental worry free solutions it also compliant with Europe RoHS standard. Currently, LuxMini 710 available in 1GB , 2GB, 4GB and 8GB capacity of each with colour of silver, golden, black and blue.
The specification of LuxMini710 such as Weight: 10g, Dimensions: 49.7mm x 15.45mm x 7.1mm, OS: Windows Vista, Windows 98, Windows 2000, Win ME, Win XP, Mac OS 9.0 & higher, Linux 2.4.0, Interface: USB 1.1 and USB 2.0, Operating Temperature: 0°C ~ 70°C, Storage Temperature: -40°C ~ 85°C, Durability: 10,000 insertions (minimum) and Lifetime warranty.