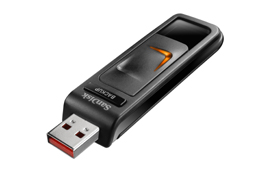 What's the single most important thing you should do but don't when you're using the computer to store valuable information either for work or personal purposes? Back up your files. Hours of hard work can disappear without trace either through theft, accident, breakdown or virus attack. Sandisk Corporation (NASDAQ:SNDK) understands users' weakness and tendency to procrastinate or ignore this important rule, and so it has come up with an innovative solution.

Driving SanDisk's Ultra USB line of products, SanDisk Ultra Backup USB portable flash drive is the first USB flash drive which allows users to back up their files with just a button click away. Users do not have to go through the hassle of installing a software. The flash drive has a capacity of 1 GB or 64 gigabytes. If users are concerned about privacy or security, the drive has sophisticated AES hardware-based encryption and access password for dual protection.
The SanDisk Ultra Backup USB flash drive offers an important function which can be utilized by users who often do not back up their files due to a thousand and one reasons. Having come with a five year limited warranty, the price ranges from US$39.99 to US$199.99.