Nowadays the storage spaces for digital gadgets such as Camcorders, MP3, etc is getting larger and larger. The hard disc on computer may not be large enough to keep the data when you transfer it to your computer. Normally user gets an external USB drive to help. The storage capacities for latest USB drives are keep growing and getting larger as well.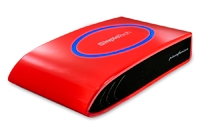 The leading global engineering and manufacturing company that offers memory and storage products, SimpleTech, unveiled its latest external storage drive lately. This SimpleDrive External Hard Drive is designed by famous Italian car design firm, Pininfarina. Pininfarina has been employed by many automobile manufacturers, notably Ferrari, Maserati, Cadillac, Nash, Peugeot, Jaguar, Volvo, Alfa Romeo, and Lancia. The SimpleDrive External Drive is colour coded by capacity: 160GB in fire red, for example, or 500GB in onyx.
The SimpleDrive External Drive from SimpleTech is quite cheap, easy to use and provides decent transfer speeds. Besides that, these drives are also bundled with ArcSoft's backup and recovery software. By getting these external drives, you can also get 2GB free online storage from Fabrik, parent company of SimpleTech.
Read more from SimpleTech & CNET.