Previously we mentioned about ToYcon that allows Icon creation but if for some reason you would like to try on other free program, here is a tiny utility that offers an alternative solution but with the same goal – personalizing your program icons utilizing existing images in simple steps.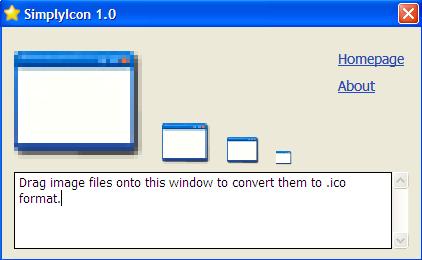 As similar to Toycon, SimplyIcon v1.0 is featured with drag and drop capability that enables users to convert any image into icons without the need to go through complicated setup. Once download and execute the utility, users will be brought to a simple drop box interface and as simple as dragging and dropping your new image (either in JPG, PNG or other common image formats) into the box will convert it into .ico icon format almost immediately. Besides, it can generate different size ICO format files in common size as tiny as 16X16, 24X24, 32X32, 128X128 or even larger than that depending on users' preference. Once done, the converted image icon will appear in the same folder as the original image so that you can locate it easily for further program execution once you decide which program to link it to.
Consumed at less than 600kB and without any installation required, SimplyIcon could be quite useful if you are looking for quick way to customize your program icon on the fly. The only pre-requisite is you will need .NET Framework 2.0 for it to work correctly.