Slim Devices, a Logitech subsidiary, has released the latest model of their Squeezebox (US$299) network music player. Available in white and black, it enables users to listen to music anywhere in their house using wireless or Ethernet network.
The Squeezebox must be connected to an external stereo system and power supply, and must be placed within range of a wireless network. It supports 802.11b and 202.11g wireless standards as well as 100Mbps (megabits per second) and 10Mbps Ethernet.

It is powered by the open-source SlimServer software and supports numerous file formats such as MP3, WMA, WAV, AIFF and MPEG2.
The high-resolution screen displays information such as music track, radio station, music visualizations and screensaver. A remote control is included that allows users to playback, shuffle or search for songs.
The Squeezebox can also function as an alarm clock, display RSS (Real simple Syndication) feeds and act as a wireless bridge.
There is also a sleep button to tell the Squeezebox to turn itself off – when not in use, the Squeezebox will enter standby mode and turn off its display.
It works with Windows, Mac, Linux and a variety of other operating systems.
Read Slim Squeezebox review or more information here.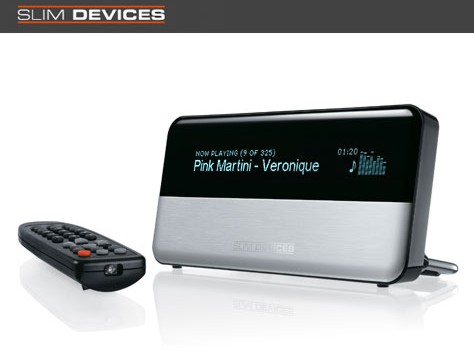 Squeezebox