You need UPS (uninterruptible power supply / unterbrechungsfreie Stromversorgung) or battery backup to maintain a continuous supply of electric supply to your electronic gadgets especially your computer in order to proceed with your works when utility power is not available. If you are looking for quality and high performance power protection with scalable run times as a contingency measure, try out the 6000VA and 8000VA models by American Power Conversion (APC) in its latest Smart-UPS RT line.

The Smart-UPS RT line supports voice and data networks in a wide variety of environments such as light industrial areas, medicals labs, etc. These models have high power internal charges which allow virtually unlimited additional battery power to meet the excessive runtime demands of business critical systems.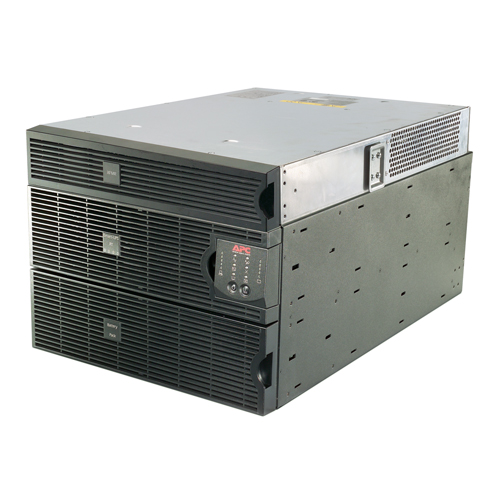 Smart-UPS RT Line 8000VA
Available in tower or rack-optimised versions, the Smart-UPS RT line new models are equipped with other features such as wide input voltage range, intelligent precision charging and also UPS battery management which allows for maximum battery lifespan.
Product specifications for APC Smart-UPS RT-8000VA:
Main Specifications
Product Description: APC Smart-UPS RT 8000VA RM – UPS – 6.4 kW – 8000 VA
Device Type: UPS
Form Factor: Rack-mountable 6U
Dimensions (WxDxH): 17 in x 26.1 in x 10.4 in
Weight: 244.7 lbs
Input Voltage: AC 208/240 V
Output Voltage: AC 208/240 V 卤 3% ( 50/60 Hz )
Power Provided: 6.4 kW / 8000 VA
Output connector(s): 5 x power NEMA L6-30, power NEMA L6-20, hardwire 3-wire (2PH + G)
Battery: Lead acid
Battery Form Factor: Plug-in module
Batteries Qty: 2
Run Time (Up To): 6.3 min at full load
Networking: Ethernet 10/100, RS-232
Remote Management Protocol: SNMP, Telnet, HTTP
Manufacturer Warranty: 2 years warranty
General
Device Type: UPS
Form Factor: Rack-mountable
Battery Enclosure Type: Plug-in module
Height (Rack Units): 6U
Width: 17 in
Depth: 26.1 in
Height: 10.4 in
Weight: 244.7 lbs
Enclosure Color: Black
Power Device
UPS Technology: On-line
Input Voltage: AC 208/240 V
Input Voltage Range: AC 160 – 280 V
Frequency Required: 50/60 Hz
Input Connector(s) : 1 x hardwire 3-wire (2PH + G)
Output Voltage: AC 208/240 V 卤 3% ( 50/60 Hz )
Output connector(s):5 x power NEMA L6-30, power NEMA L6-20, hardwire 3-wire (2PH + G)
Power Output Connectors Details: 1 x hardwire 3-wire (2PH + G), 2 x power NEMA L6-20, 2 x power NEMA L6-30
Power Provided: 6.4 kW / 8000 VA
Output Waveform: Sinewave
Surge Suppression: Standard
Circuit Protection: Circuit breaker
Battery
Quantity: 2
Technology: Lead acid
Run Time (Up To): 6.3 min at full load
Recharge Time: 2.2 hour(s)
Networking
Remote Management Interface: Ethernet 10/100, RS-232
Remote Management Protocol: SNMP, Telnet, HTTP
Expansion / Connectivity
Interfaces: 1 x management – RS-232 – 9 pin D-Sub (DB-9), 1 x management – Ethernet 10Base-T/100Base-TX – RJ-45
Expansion Slots Total (Free): 1 ( 0 ) x SmartSlot
Miscellaneous
Cables Included: 1 x serial cable
Rack Mounting Kit: Included
Features: Audible alarm, emergency power off, internal bypass, LED indicators
Compliant Standards: FCC Class A certified, CSA, UL 1449, UL 1778, FCC Part 15
Software / System Requirements
Software Included: Drivers & Utilities
Manufacturer Warranty
Service & Support: 2 years warranty
Service & Support Details: Limited warranty – 2 years
Environmental Parameters
Min Operating Temperature: 32 degree F
Max Operating Temperature: 104 degree F
Humidity Range Operating: 0 – 95%
Sound Emission: 55 dBA
Product specifications for APC Smart-UPS RT-6000VA:
Battery
Enclosure Type: Plug-in module
Load Type:
At full load:
Recharge Time: 2.5 hour(s)
Run Time (Up To): 3.3 min
Dimensions & Weight
Depth: 66 cm
Height: 13 cm
Weight: 54.6 kg
Width: 43.2 cm
Environmental Parameters
Humidity Range Operating: 0 – 95%
Max Operating Temperature: 40 °C
Min Operating Temperature: 0 °C
Sound Emission: 55 dBA
General
Product Type: UPS
Subcategory (AG): UPS
Header
Compatibility: PC
Manufacturer: APC
Product Line: APC Smart-UPS RT
Miscellaneous
Colour: Black
Compliant Standards: C-Tick, CE, EN 50091-1, EN 50091-2, EN 60950, EN 61000-3-2, EN55022, Class A, GOST, UL 1449, VDE
Height (Rack Units): 3
Networking
Remote Management Interface: Ethernet 10/100 RS-232
Remote Management Protocol: HTTP, SNMP, Telnet
Power Device
Circuit Protection: Circuit breaker
Energy Rating: 480 Joules
Form Factor (AG): Rack-mountable
Frequency Provided: 50/60 Hz
Frequency Required: 50/60 Hz
Input Connector Qty: 1
Input Connector Type: Hardwire
Input Voltage Range: AC 160 – 280 V
Input Voltage Range (Adjustable): AC 100 – 280 V
Output Connector Qty: 10
Output Connector Type: Power IEC 320 EN 60320 C13, Power IEC 320 EN 60320 C19
Power Capacity (VA): 6000 VA
Power Device Features (AG): Audible alarm, Emergency power off, Internal bypass, LED indicators
Power Provided: 6000 VA
Surge Suppression: Standard
Type: UPS
UPS Output Waveform: Sinewave
UPS Technology: On-line
Voltage Provided: AC 220/230/240 V
Voltage Provided Margin: ± 3%
Voltage Required: AC 220/230/240 V
Service & Support
Type: 2 years warranty
Software
Type: Drivers & Utilities
UPS
Batteries Qty: 1
Battery Technology: Lead Acid