Previously we mentioned about Softbank's External 1SEG Digital TV receiver targeted for iPhone 3G/3GS, now seems that the new iPhone app has been announced to make the device even more suitable for Japan market. Named as TV Mobile, the app will allow the iPhone 3G/3GS users to watch digital TV streamed from the air and received through the 1Seg digital TV tuner connected with iPhone via internet network connectivity.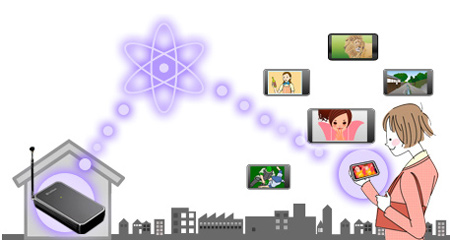 The new app is being designed to remove the limitation to pair the tuner within short distance for an iPhone users to receive the digitally broadcasted channels. Instead, users are allowed to stay connected wirelessly and the network connection can be established with internet access as long as there is coverage. However, the service will be restricted to be used under Wi-Fi hotspot coverage only but not 3G cellular network. Besides, the digital tuner is believed to drain battery faster than anything with its always-on and connected capability so it is always advisable to have a backup USB power source to continue enjoy the digital media streaming without interruption.
TV Mobile will be available soon in Apple's App Store (Japanese version) as a free app temporarily for users to experience the media streaming and will be charged 1000 yen (around $11) for normal unlimited access and usage eventually. No doubt this is a good workaround to compensate the lack of internal digital tuner to compete against other local smartphones' players such as Sharp and Hitachi as a new entrance in this competitive market space.